ANAHEIM, CA 2017!
Planning is in the works for next year's conference in Anaheim, CA on February 11-12, 2017. More info to come this summer, we hope to see you there!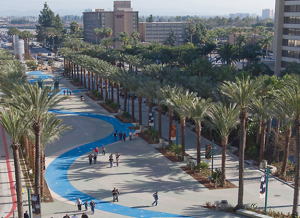 ---
CHECK OUT THE ARTICLE OF THE MONTH
The EACT, a student-run free clinic out of  the University of Florida, came up with an innovative way to decrease patient wait times and increase the number of patients seen during their clinic hours. Check out their findings in the article referenced below!
Sacino AN, Shuster JJ, Nowicki KW, Carek PJ, Wegman MP, Listhaus A, Gibney JM, Chang K. Novel Application of a Reverse Triage Protocol Providing Increased Access to Care in an Outpatient, Primary Care Clinic Setting. Fam Med 2016;48(2):136-139.
STEPS HEALTH INITIATIVE, Wright State University
The STEPS team works with two different homeless shelters in Dayton, Ohio. They operate once per week serving roughly 20 individuals a week. STEPS began in 2012 and focuses on patient empowerment through the use of motivational interviewing and goal setting. This initiative started as an impressive interprofessional collaboration. Students from Wright State University (WSU) Boonshoft School of Medicine, Cedarville University School of Pharmacy, Kettering College Master of Physician Assistance Studies (MPAS) Program, the University of Dayton Master of Physician Assistant Practice (MPAP) Program, the WSU College of Nursing and Health, and WSU School of Professional Psychology all came together to treat individuals in need while also creating unique opportunities for students to learn from each other.
Every Saturday the STEPS team gathers before seeing residents of the shelters. They plan out their day and set up the student teams. Again at the end of the day the team comes together to discuss the patients and lessons learned. The students working on the STEPS initiative are providing a great service to individuals experiencing homelessness in Dayton. However, they are continually improving on the work that they are doing. Currently, the students are working on creating an electronic record keeping system to improve patient care as well as the educational components of the clinic.
Reach out to STEPS by visiting their website here!
CLINICA ESPERANZA, University of Tennessee
Clinica Esperanza (Clinic of Hope) is University of Tennessee Health Science Center's student-run free clinic. The clinic is entirely run by students from the medical school and the school of pharmacy. The clinic is also open to high school and undergraduate students to shadow and contribute to the community! The students serve and provide primary care to uninsured, low-income Hispanic patients every Saturday afternoon. They serve 5-8 patients each clinic session. The students also provide and perform lab work for their patients. They focus on providing care to individuals who otherwise may not receive it.
You may email Clinica Esperanza with questions!
THANKS FOR ALL THE GREAT WORK YOU DO!!
Written By: John Heafner and  Mahsa Madani, Communications Committee, SSRFC